New Loven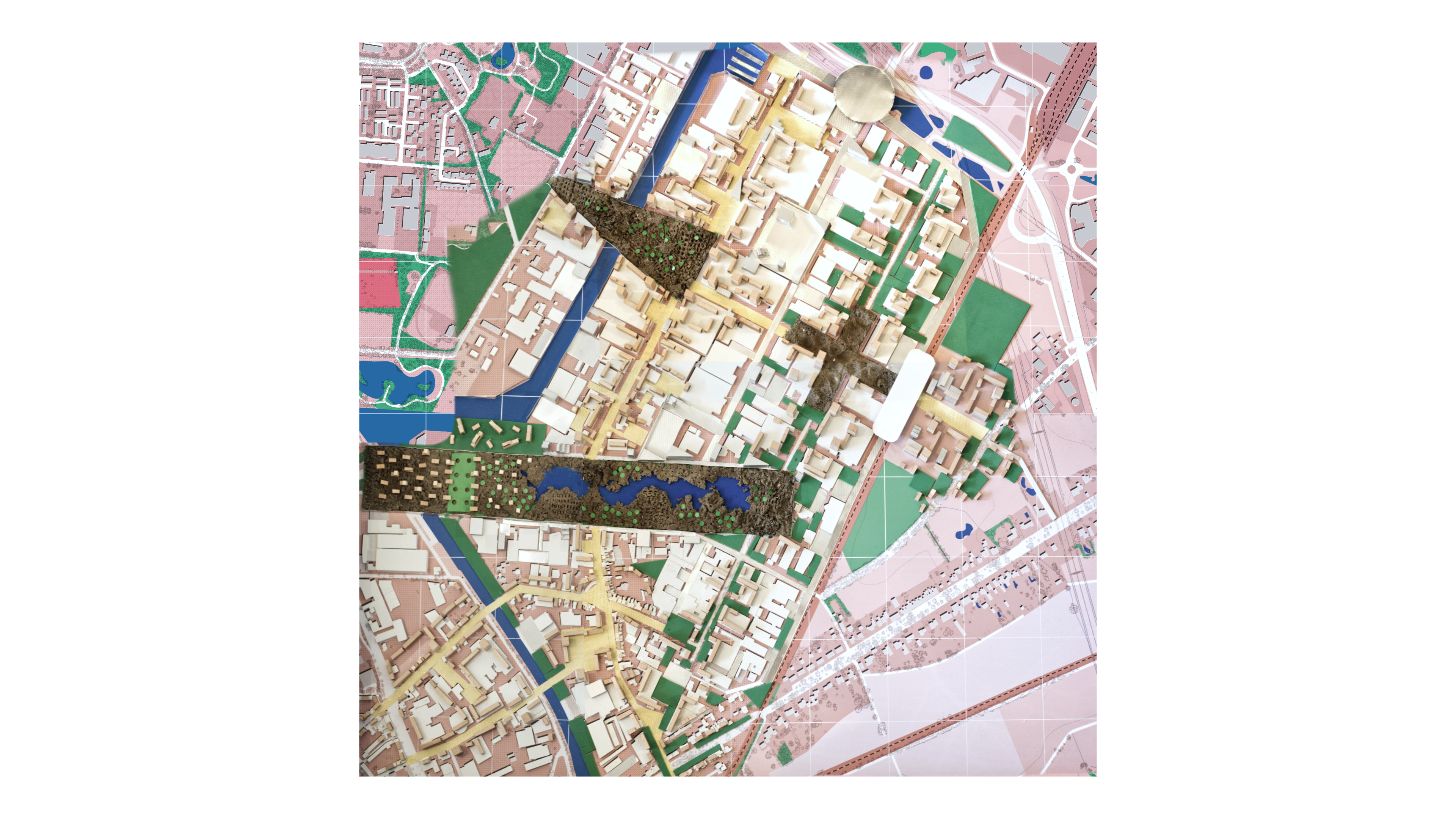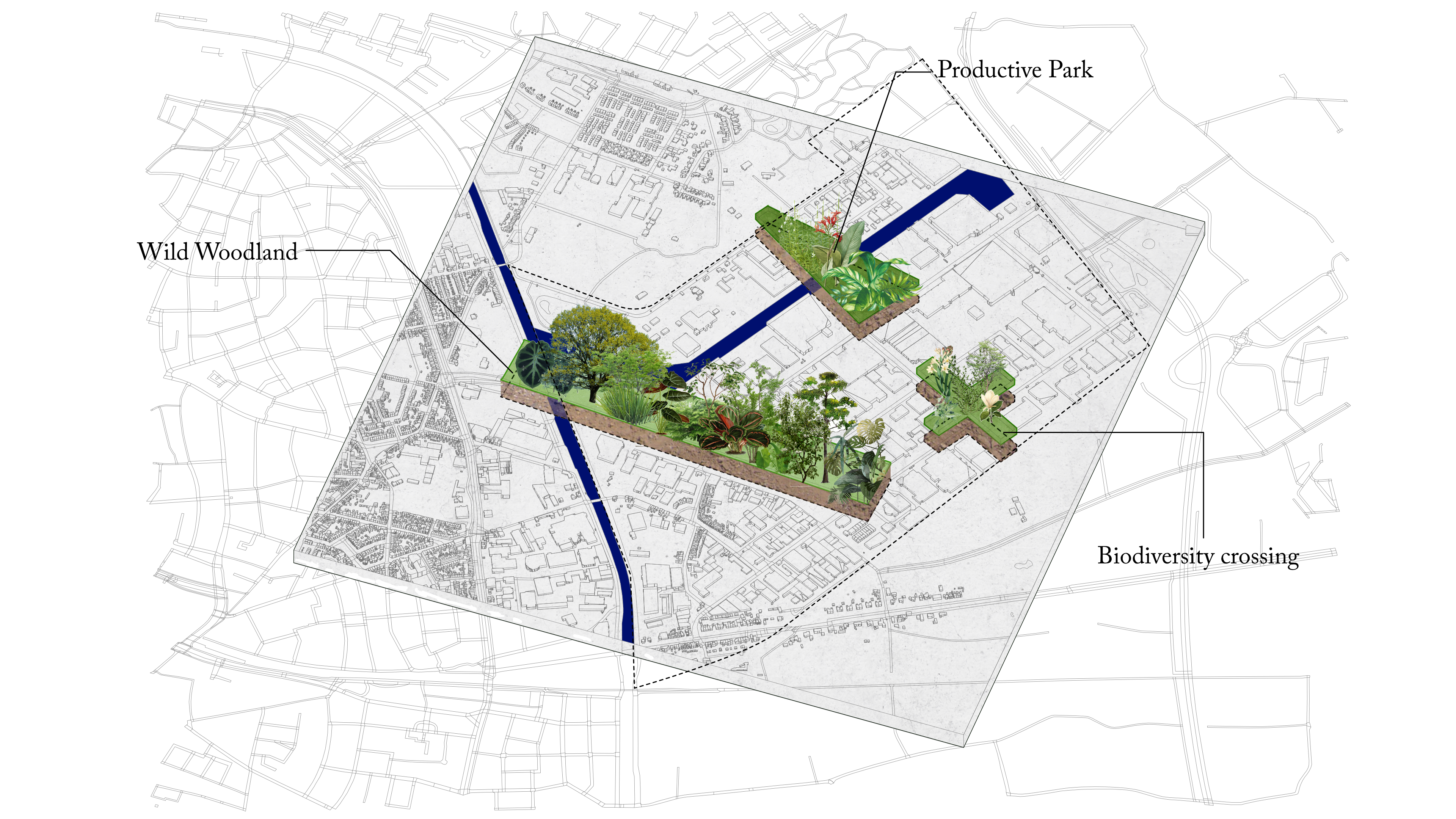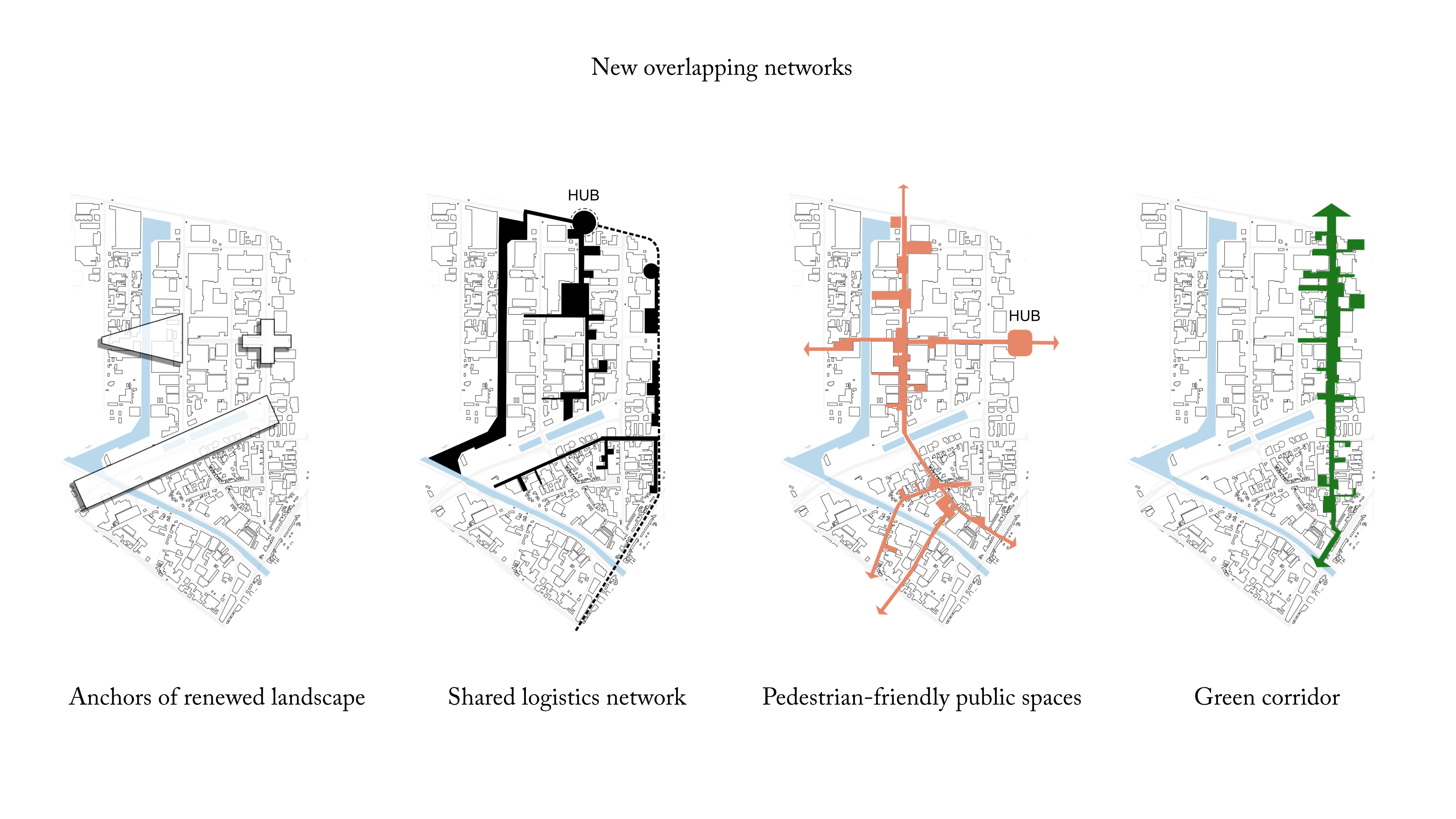 In autumn 2022 we joined Ministerie van Maak as one of the 100 teams investigating spatial possiblities for placing 10.000 houses in a 4km2 area in a site of choice, as part of the IABR exhibition.
The selected location – Loven in Tilburg is mostly a mono-functional industrial area. The main idea is to embrace it as an integral part of the city and diversify it by adding housing, high-quality public spaces, mix of uses and greenery.
To do that we propose to minimise and combine logistics for industrial activities, add a distribution hub and mobility hub for pedestrian-friendly public spaces.
The main intervention consists of three big scale insertions containing renewed landscape, greenery and clean soil – anchors for future densification. With these steps we hope to create new synergies between added housing and existing industry.
This concept study was part of the 10th International Architecture Biennale Rotterdam exhibition.
The initiators of Ministerie van Maak expo are the IABR, MANN, ZUS, VOLUME and the Independent School for the City.
22 Sept – 13 Nov 2022
Profile
Studio Iza Słodka connects architecture and urban design in creating integrated spatial concepts. We prioritize public and collective spaces as much as buildings, treating architecture as an envelope for flexible and adaptable environments. Our location-specific approach highlights the unique qualities of each site and creates resilient frameworks for a range of activities.
In our work we value informal characteristics of areas in transformation, honest details, genuine materials, and circular solutions, and combine them with non-traditional typologies and multi-use spaces. We enjoy exploring the ambiguity between indoor and outdoor spaces, blurring the lines between them.
While working on diverse projects in various contexts, we often choose a collaborative approach tailored to each task. Our focus on productive cities, where living and working mix, and urban commons has led us to deliver multiple lectures and desgin studios at the Rotterdamse Academie van Bouwkunst and TU Vienna.
Awards & Grants
2nd prize Europan 16 competition
Klagenfurt, Austria
Tracing Domains, transformation strategy | co-author: Xander van Dijk
1st prize Europan 15 competition
Keilekwartier, Rotterdam, NL
Makers' Maze, transformation and densification strategy | collaborator: Erica Chladova
YTAA 2016 – Mies van der Rohe Award nomination
Collage & Continuity, transformation strategy (Kraków, Poland)
Publications
Europan 16 results Living Cities
edited by Europan Europe, 2022
Europan 16 Austria Living Cities
Edited by Iris Kaltenegger, Bart Lootsma and EUROPAN Austria
Publisher: Park Books, 2022
ISBN 978-3-03860-296-5
Europan 15 results Productive Cities
edited by Europan Europe, 2020
Europan 15 NL. In the midst of the unpredictable
Edited by Jessica Cullen, Martine Zoeteman
Publisher: AIR – Architectuur Instituut Rotterdam, 2022
ISBN 978-90-90365-77-0
Exhibitions & Events
KeilePodium: Nieuwbouw Plannen M4H
22 February 2022, KeileZaal, Rotterdam, NL
organized by Keilecollectief
Exhibition HOE WILLEN WIJ WONEN M4H 2030
Rotterdam Architecture Month 2022
1 June – 14 July 2022, KeileZaal, Rotterdam, NL
organized by Keilecollectief

KeilePodium: HOE WILLEN WIJ WONEN M4H 2030
6 July 2022, KeileZaal, Rotterdam, NL
organized by Keilecollectief
Exhibition Europan16 Living Cities
25 March – 7 April 2022, Remise West, Klagenfurt, Austria
organized by Europan Austria
Exhibition Aard van de Plek
21 September – 7 November 2022, KeileZaal, Rotterdam, NL
organized by Keilecollectief
Exhibition Undercurrent
Rotterdam Architecture Month 2021
5 June – 27 June 2021, Kruisplein parking garage, Rotterdam, NL
organized by AIR Rotterdam
Stadmakerscongres 2020
25 – 27 November 2020, HAKA Building, Rotterdam, NL
organized by AIR Rotterdam, Europan NL
Contact
Questions about collaborations & projects enquiries:
Studio Iza Słodka is based in Rotterdam, the Netherlands